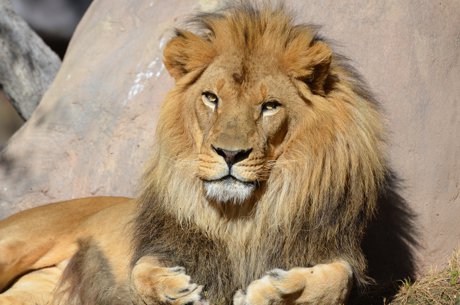 It seems like all the world's animals are living right on San Antonio property. And many actually are. At the San Antonio Zoo hundreds of international species thrive in natural settings. State of the art habitats emphasize surroundings found in the wild.
Beasts of all sizes, shapes and colors welcome visitors to their San Antonio home. Roars from the Big Cat Alley are compared with glee to the cunning meow of the calico house cat at home. Lions shake their manes and strut their stuff maintaining the title of King of wherever they roam. Smaller cats like the clouded leopard and caracal prowl in the Cat Grotto. Meet the three bears in Bear Corner. Compare the differences between the black bear, sun bear and speckled bear. Avid bird watchers won't want to leave the Bird House. Benches provide the perfect perch to rest on while spying out a variety of species from the South American rain forest and Asian jungle. Giraffes stick their necks out in friendly fashion saying hello to Rhinos stomping nearby.
Beasts of All Shapes and Sizes Call San Antonio Home
Conservation through education is a key principle of the San Antonio property. A variety of programs diligently work with bringing awareness of the plight of animals living in wilderness areas around the globe. Theme days occur on the grounds throughout the year. Highlights include April's Earth Day celebration, World Water Day, Global Tiger Day and Bones, Bats and Bugs. The Roars and Snores overnight programs cater to both large and small groups. Gatherings showcase animal encounters, night tours, fun activities, snacks and a continental breakfast. Espeicially for toddlers, Kronkosky's Tiny Tot Nature Spot emphasizes keeping busy. Playleaders stimulate the senses focusing on early education and a developing a love of nature. Animal ambassadors often make guest appearances to the delight of children and their parents.
Everyone's favorite animals seems to be at the San Antonio Zoo. Foster a love for these creatures whose species depend on all of our goodwill to survive in their natural habitats. Open year round, view the zoo calendar for current hours.